Smart Trainers are exploding in popularity, and have been for a few years. Learn more about what makes this unique cycling experience so attractive to all riders, from pro racers to casual exercise seeking fans.
Smart Trainers offer a unique Winter cycling experience
It is the time of year where many people start thinking about how they will keep up with their cycling or weight loss goals through the long winter. Leaving your home to go to a gym can be expensive and a pain, but it is hard to find a home workout that you will stick to. This is where smart trainers come in. Smart Trainers offer a fun, interactive experience that will make your at home workout feel exciting! So, let's start with the basics.
What is a Smart Trainer?
A traditional trainer is pictured below. It attaches to your back wheel, and applies resistance. This turns your bicycle into an indoor spin bike! A smart trainer adds another layer of interactivity. Smart Trainers automatically broadcasts to cycling apps such as Zwift, where you can ride virtual roads and train with structured workouts. Your smart trainer will automatically vary resistance based on changing terrains and conditions with your in app experience. Smart trainers also allow riders to better track stats as they ride, making riding more fun, and making it easier to see progress and set goals.
Why get a Smart Trainer instead of a spin bike or Peloton?
A Smart Trainer offers all the aerobic benefits of a spin bike, and has more potential for structured workouts than a Peloton, at a mere fraction of the price. Not to mention, you get to train on your own bike! That means that when summer hits, you will be ready to hit the roads with a new sense of confidence. Winter riding is a great time to get in tune with your gear, maximizing efficiency for your summer rides. This means making developing preferences in things like seat height, pedal placement, handlebar placement, etc. Zwift also offers one of the most deepest communities of runners and riders, sometimes topping out at over 40k concurrent users!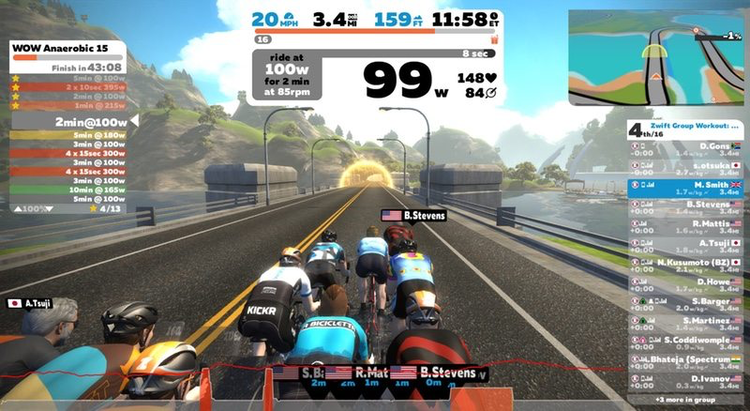 Where can I try a Smart Trainer?
Alpine Cycles has set up an all new Zwift Experience Center. This allows you to be able to first hand experience in what a Smart Trainer has to offer. This also gives you the opportunity to ask our well-trained staff questions Smart Trainers as get the chance to ride.
How do I setup a Smart Trainer?
Smart Trainers are a breeze to setup. Simply plug in your trainer, attach your bike, download a compatible riding app, and ride! They will connect to iOS mobile devices, personal computers, laptops, Apple TVs, and more. To help make it even easier, Alpine Cycles offers Free In-Home Installation with the purchase of any qualified Smart Trainer.